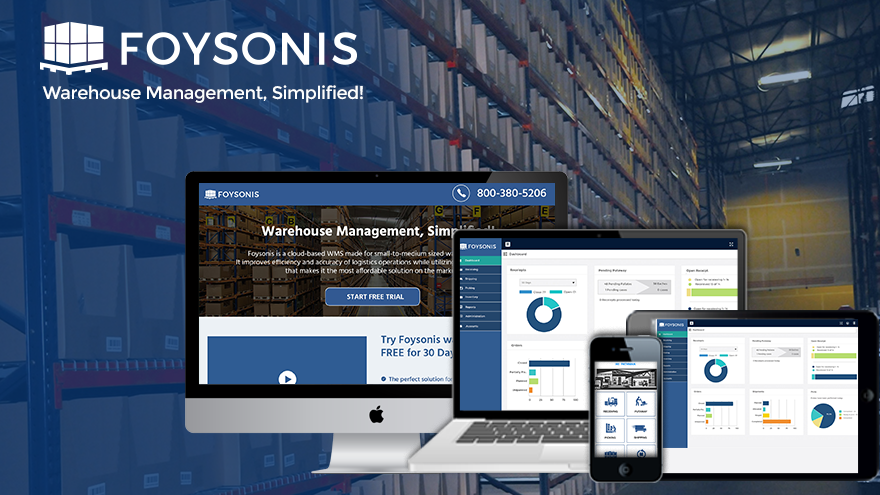 By , 1 May 2017 20:31
Foysonis WMS Enables Warehouses to be Managed in the Cloud
Foysonis is a cloud-based WMS made for small-to-medium sized warehouse operations. It improves efficiency and accuracy of logistics operations while utilizing a SaaS software model that makes it the most affordable solution on the market today.
CARY, NC. (PRWEB) APRIL 27, 2017.
Foysonis, a technology start-up based in Cary, North Carolina, released a cloud-based Warehouse Management System (WMS) to run small to midsized warehouses. Foysonis offers the solution in a SaaS model for an affordable monthly subscription fee, enabling businesses to build a smart warehousing operation powered by a cloud software platform.
To access the software, users only need a computer with the latest browser and an internet connection. Setup is straightforward and normally takes a few hours or can take a few days, depending on the master data setup. Customers running their warehouse in a pen and paper environment or in any legacy WMS software can seamlessly move to Foysonis's cloud-based WMS.
The Foysonis WMS platform automates receiving, putaway, order fulfillment, picking and shipping processes within a warehouse. Customers receive unmatched, world-class customer support from warehousing experts to configure the Foysonis WMS to fit their warehouse operation as well as to resolve any operational issues. Support is offered 24 hours, seven days a week to ensure projects succeed.
Customers automate warehouses easily with barcode labels and use existing iOS or Android devices to scan the labels. This is a time-saving measure for warehouse associates. Built specifically for mobile platforms, Foysonis mobile apps take advantage of the touch-enabled user interface and the inbuilt camera to scan the barcodes. Users can also employ special-purpose, Bluetooth-enabled barcode scanners for the industrial environment in conjunction with their devices to improve the speed of barcode scanning. With a warehouse-as-a-service platform from Foysonis, customers no longer need to purchase their own servers to install and run a legacy on-premise WMS software or to hire a large IT team.
With a classic electric utility model and an Uber-like, on-demand service to run warehouses, Foysonis has democratized access to WMS software for small to midsized warehouses. One client example is Headwin Logistics, a leading logistics services company in Dallas, Texas. The company chose the Foysonis WMS platform to run its warehouses, which enables Headwin to deliver exceptional third-party logistics services to its customers. Headwin USA Managing Director Ray Counter says, "Foysonis WMS is our platform of choice to run warehousing operations to better serve our customers and rapidly grow the warehousing side of the business."
The team at Foysonis built the WMS platform from scratch for the mobile-first and cloud-computing era. Foysonis Director of Engineering Srikaran Ariyakumar says, "We've designed Foysonis WMS to meet the unique needs of small to midsized warehouses, with purpose-built applications for iOS/Android devices; modern touch enabled user interface; and internet scale, cloud-native software architecture. Plus, we made it affordable for any small warehouse operations."
The Foysonis founders spent years implementing WMS systems for Fortune 500 companies; during this time, they realized most legacy, on-premise WMS solutions are bloated and expensive to install. They solved this problem by designing a cloud-native WMS platform and simplifying the implementation of the WMS. Foysonis is leading the revolution to digitize warehouse operation for the 21st century. Potential users can contact Foysonis or sign up for a 30-day free trial at http://www.foysonis.com.
About Foysonis
Foysonis is a cloud-based WMS provider for small to midsized warehouses. Its vision is to simplify warehouse management and make it affordable for all businesses. Foysonis WMS platform is based on a cloud-native, service-oriented architecture capable of running thousands of warehouses and billions of transactions in a highly-secured, cloud computing infrastructure. The product guarantees 24×7 uptime, reliability, scalability and high performance. Visit http://www.foysonis.com, email info@foysonis.com or call 800-380-5206 for further information.