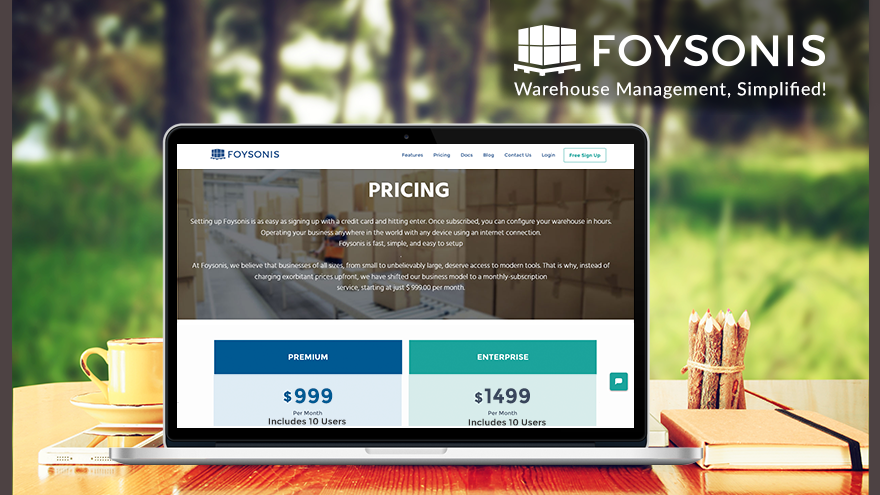 By , 15 August 2018 16:01
Foysonis Enterprise Plan Features and Benefits
Good design makes a product useful
-Dieter Rams
What you find as your business grows, and when competition heats up is that you need to scale up and at the same time keep operational cost for your warehouse operations in check. You can do that only with a modern warehousing software like Foysonis. And how efficient your supply chain becomes drives the competitive advantage and the long-term business strategy for your business growth. Using technology is the only way you can move products from Schengen, China to a consumer in Charleston, SC in today's globalized world. By having a modern cloud-based WMS system like Foysonis, you will bring up new warehouses live in weeks, and view supply chain information in real-time through one single web interface across your whole network.
Foysonis comes in two flavors; A Premium Plan and an Enterprise Plan. For a plain vanilla single warehouse operation, the Foysonis Premium plan is the ideal product. However, if you want to expand your business with much more sophisticated operations and dynamic business rules, and integrate to enterprise systems, Foysonis Enterprise plan is the best choice. The Enterprise plan has the flexibility to extend the base functionality, automate the integration of supply chain business data, build custom reports and labels, provide a REST-based API interface and power-up warehouse workers with industrial grade RF devices.
In this blog post, we are going to break down the features and functionality of our enterprise plan and why it would make sense for customers who are growing fast to sign-up or upgrade to our Enterprise plan.
Extend the base functionality
Foysonis product design and development philosophy is to make implementing a warehouse management system as simple as possible. That is the reason for configuring and setting up Foysonis WMS to run a warehouse takes only a few weeks. However, our product is still very much functional and useful to the end users, what matters is the fact we get the job done at the end of the day for a warehouse worker.
Our user interface screens are clean and simple to navigate. We have added only the absolutely essential fields to the business objects for a core warehouse operation. If you decide to add new fields to any of these objects, we have our own advanced configuration tool to do so.
This Tool consists of the following key components.
Dynamic Fields
Event Driven Programming
Let's look at what each of these components does. Using Dynamic Fields, a developer can add custom fields to a base business object like a Receipt/Item/Order etc. and have it come up on the right UI screens on the Web Interface and Mobile Devices. End users will be able to add values to this field and will see it displayed on the relevant user interface screens. You can make the field searchable on the Web applications or the Mobile applications that run on iOS/Android and the RF devices.
For example, a customer would like to add purchase order number to the receipts and inventory objects. There might be a master purchase order against which you will be receiving products into the warehouse on several receipts over a period of several weeks. You would like to track the purchase order number against which these receipts were processed and also decide to tie in the inventory associated with that purchase order. To do that you will have to create purchase order field for the Receive Object and the Inventory Object. With the dynamic field framework, you can easily add the purchase order number to the Receive and Inventory Objects and then render that field in Web and Mobile user screens. Using this new field in those screens, the warehouse worker would just enter the purchase order number and track the receipts and inventory easily throughout the lifecycle of your receiving and shipping operation.
With an intelligent even driven programming architecture, we have the flexibility to plug-n-play custom groovy script throughout the lifecycle of a warehouse operation. Warehouses have different operational events happening all the time during a daily operation, like a pallet being received into the warehouse, or a pallet being picked from the storage location for shipment. Events, clearly identify the timeline of the specific action by a user or system and identify the data or the business object involved in it. If a pallet is being received, we will know the Pallet ID or the License Plate Number (LPN) it was associated with the "Inventory Received" event. Using this data the Groovy script will execute a code to direct the user to a QA location or print special LPN labels for specific Item ID as per the custom business requirement.
The simplicity of groovy and a robust Foysonis SDK let solution engineers implement a complex workflow for receiving or picking processes without having to restart the Foysonis server environment, and provide the ability to execute on the fly these scripts. Foysonis SDK provides programmable logic to plug-into the Foysonis platform to operate on various business service layers like Receiving Service, Inventory Service, Picking Service and Shipping Service.
Integration
We have seen so far how easily you can add new fields or plug-in custom groovy scripts to extend the base functionality. The other key feature you will need when you grow in volume is how you integrate data externally from your customers and suppliers. That is where the Business Data Exchange server that is part of the Enterprise Plan will be a huge lifesaver for your operation. Once we configure this server with the external systems, it will be a system to system communication for receipts coming into the warehouse, orders that need to be fulfilled or shipment notifications to external systems. You will no longer need a team of employees in your shipping or receiving office to do manual data entry. This automation of data not only saves time and money, it will improve any data entry errors that occur in a manual environment. The data formats will be in CSV, XML, JSON, Flat File, etc. The server will handle EDI transactions as well. In terms of ERP system integration, you can integrate to SAP, Oracle and Microsoft business applications. We can also quickly build mapping plug-ins for proprietary homegrown systems.
With an Enterprise plan, if you plan to extend your distribution network to multiple warehouses, you will set up and then configure each individual warehouse separately on Foysonis. Once that is done, you would then use the portal application that provides a real-time view to all of these warehouses in a one single web interface. Users would be able to look at the inventory levels, the number of products coming into the warehouse and how the orders are getting fulfilled in each warehouse. It is a 360' view of all your operations. If you are a fast-growing 3PL or a CPG company, managing multiple warehouses across different states, this portal will give you the complete visibility and help you gain deep insights as to how well your logistics operations is performing.
The Foysonis WMS platform itself is exposed as a REST style API so that 3rd party developers can easily interact with our platform for warehouse related data in real-time. Making it easy to get inventory data, the status of orders and shipments. In addition, the enterprise plan also comes with a custom report development tool that lets you build customized reports to gain new insights into the operational data of the warehouse. Not only can you build custom reports, you can also easily create the custom shipping or picking labels specific to your operations.
Switch to a modern WMS
As you can see, the enterprise plan has powerful features to run a complex warehouse operation for your fast-growing business. The enterprise plan starts at $1499/month for ten users. If there is additional onsite visit and professional service you need to come up with a custom solution, our professional service team which has experience working for Fortune 500 companies is there to help. With our SaaS model, customers will save 40-60% compared to most of the competition. And to add to that, we don't tie you into long-term yearly contracts. If you don't like our product or service, you can stop paying the monthly premium and just get out of the contract. We know our product is strong that customers will stick with us for the long-haul. Make the smart choice and run your warehouse in a modern cloud-based WMS software from Foysonis.