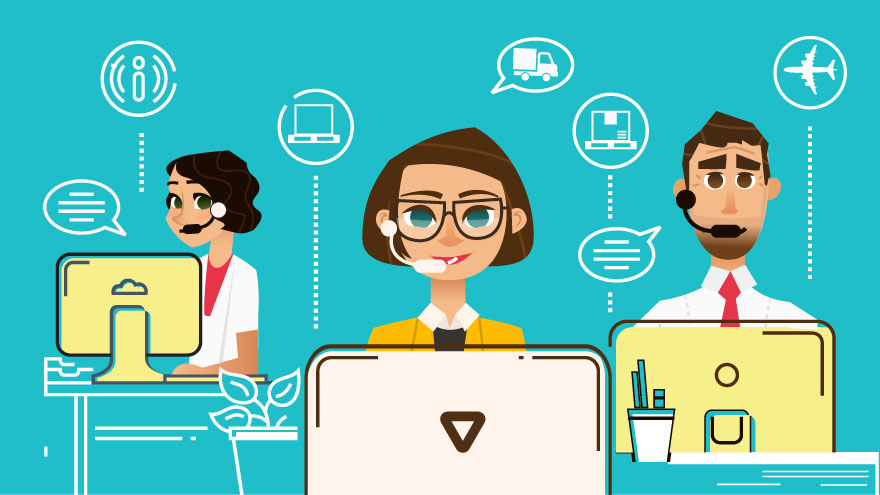 By , 19 December 2017 11:17
Foysonis Customer Service will transform your warehouse operations
As a SaaS provider, especially dealing with a software that handles your most important asset-your inventory, we place huge importance to the "Service" element of SaaS. With a 24×7, 365 days customer service center, that is staffed with operational and software engineers with expertise in warehouse logistics and Foysonis cloud WMS, we are able to handle all technological and logistical operational issues for our customers in a timely and efficient manner.
Service philosophy
We have from our beginnings, built our company's culture to provide a remarkable customer service to our customers. We do this by being available through emails or phone anytime of the day and respond immediately within a few minutes to your needs. Any questions our customers have, ranging from how to optimize their warehouse layout for efficient picking or how to barcode storage locations are all fair questions to us. Our mission as a company is to build high-quality software product and at the same time provide exceptional customer service.
Responsive to customer needs:  When someone calls Foysonis, they immediately get through to a helpful support engineer, who is happy to talk to the customer and resolve their issues quickly.
Ensure warehouse ability to ship products:  For warehouse operation, nothing is more important than ensuring all products are shipped on time to customers. Our team focuses on making sure that we find quick solutions to issues that keep the warehouse operations running.
Clear communication with end users:  Our engineers listen carefully to your problems, categorize it as an operational or technical issue and then proceed to resolve the issue with clear estimate on how long it will take.
On-boarding and Go-Live help
From the time you decide to sign up for our platform, you will be assigned to a Solution Architect, who will analyze your operations and come up with a detailed solution that will meet your business needs. All implementation projects follow the ACTiV methodology to successfully take a new warehouse to run on the Foysonis platform.
ACTiV implementation process has four phases:
Analyze :  Analyze your warehouse operations and define how the requirement would be met in Foysonis WMS. This will be a comprehensive analysis of your receiving and shipping operations.
Configure :  Configure Foysonis WMS to meet the requirements of your operation. At this stage we will define your warehouse area layout, putaway rules, picking methodology and allocation search path.
Test :  Test end-to- end all workflows for your operation. We will test the system with a combined team of our implementation engineers and the end users who will use the system in a day-to- day basis.
GoLive :  Launch the system to take your operations live on Foysonis platform. Customers are provided clear plan about the tasks that is required to have a successful Go-live and we support the operations team of our customers.
During the ACTiV implementation process, we will also load all your base data related to items, areas, locations, customers, and carrier information. Once the system is ready, customers will start testing the system to ensure it meets their needs and will move on to the training phase.
Training can be tailor made to meet your needs and the expertise level of your users. Once training is completed, we will provide Go-Live help to customers with remote and on-site teams.
Risk reduced with Foysonis long-term customer care
Our customers value reducing the risk when they begin the journey to implement WMS software. With Foysonis guaranteeing a service level commitment of 99.9995 uptime, customers risk is reduced greatly as compared to alternative legacy vendors.
With legacy WMS vendors, you end up paying huge upfront perpetual license, an army of consultants to implement the software, implementation that takes several months or years, and then they let you to your own devices to support a system that your team had very little involvement with.
As a SaaS provider, we stick around and provide a long term value to your business and build a relationship that is based on trust and commitment to quality for the long term. Our implementation team and support team have members who work together to resolve any issues that come up in the future. The handoff between the implementation team and the support team is pretty smooth transition, and even after implementation, the engineers are accessible to our support team by email or a phone call. There is no Berlin wall or silos in Foysonis. Right from the time you come on board to the Foysonis platform to your continual use of our application, our responsibility is to power your supply chain operations humming at full speed, 24×7 throughout the year. This is a radically different way of doing business and aligns your business interests with ours. Hardly any legacy WMS vendors or other "cloud" providers have this kind of commitment.
Customer success paramount to our success
In this day and age of social media and online reviews, news of bad customer service spread like a wild fire. Case in point, the episode of American airlines throwing out a passenger forcefully off the airplane because of overbooking, that was its own mistake resulting in huge backlash with the video of the passenger being removed forcefully by security officials going viral on Facebook and other social media channels. That incident made serious dent financially to American Airlines. Keeping this in mind, we have carefully designed our customer experience to make all our projects and customers successful.
One of our early customers , Headwin International Logistics, a 3PL provider from Dallas, TX love our product and more importantly our superior services. This is what the Managing Director, Ray Counter had to say about us, "Foysonis WMS is our platform of choice to run warehousing operations to better serve our customers and rapidly grow the warehousing side of the business. Foysonis WMS software is simple to use and they provide quick customer support. At Headwin International Logistics, this is our choice of WMS and is loved by our clients".
In conclusion, a superb customer experience begets more loyal customers, who will be successful in keeping their supply chain operations running. Ultimately, making us successful as well. Nothing beats a loyal customer base when you are in business. We just wonder why others don't care as much about customers like us!