Many businesses switch to a legacy on-premise WMS system from pen-and-paper thinking that it is the right choice to simplify their warehouse operations. But they end up with more complex and a slower warehouse operation than ever before. Not to mention about the huge amount of money they have spent on the system implementation and the new IT hardware infrastructure consisting of RF scanners.
Worry no more! Because now with Foysonis WMS cloud, you can manage all your warehouse operations right from your iPhone device.
Giving your iPhone more power to run your business than to make just business calls. We at Foysonis have  simplified your WMS operation in a super simple and cost-effective way. For this, all you have to do is download the Foysonis WMS companion app, once you signup and implement Foysonis WMS cloud software for your warehouse.
Designed specially for small and medium-sized warehouses, the app is changing the dynamics inside the 4-walls of a warehouse.
Here are some benefits of using your iPhone with Foysonis WMS companion app vs RF devices used in legacy warehouse management systems.
 iOS Device
 RF Device

Familiar Touch enabled user interface
No need of scanning devices as you can scan the barcodes right from you iPhone Camera
No training needed for user
Most cost-effective solution

New and clunky user interface
Need to purchase a new and expensive device
Special training needed to learn function keys and its operations
Highly expensive hardware solution
Here's how to use Foysonis WMS app right.
STEP 1 : Setup a Foysonis account through Foysonis WMS cloud with 'User' access rights.
STEP 2 : Download the Foysonis WMS companion app from the iTunes store from this link.
STEP 3 : Log in with your credentials and you are good to go and manage your warehouse right from  your iPhone.
Navigation & Functions
Once you log in to the app, you'll be taken to the main menu shown in Fig 1.1, where you can select the task you need to perform such as receiving, putaway, picking or inventory movement.
Fig 1.1
With the app, you can decide and plan the warehouse operation for the day considering the priority, based on the number of orders that you need to fulfill or the inbound products you will receive for the day.
Do you know what is the best part of a cloud based Foysonis WMS? You can assign tasks to different individuals or teams depending on the tasks you have to perform for the day. For an example, you can delegate the receiving and putaway tasks to a team of warehouse associates, and then the picking or inventory movement tasks to another team. This will not only optimize the labor force wisely but also will boost the efficiency of your warehouse operations.
That's not it.
You can scan the pallet LPN or item barcodes right from your iPhone camera. If you think it's a bit of a hassle, you can use a Bluetooth barcode scanner with MFi certification for this.
Let's have a look at how to use each of the functions the app offers you and how they work.
Receiving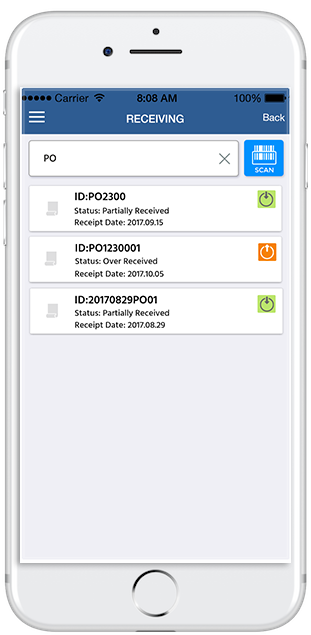 Fig 1.2
Here's how to perform a receiving transaction with Foysonis WMS app. Once the receipt details are entered to the Foysonis Web Application, you can access the receipts from your iOS device (Fig 1.2).
Select the receipts you need to process for the day and pick the right receipt line. Then scan the pallets in the receiving staging location. The camera on the iOS device (iPhone, iPod, Tablet) will scan the barcode of the LPN. Or you can use a Bluetooth barcode scanner with MFi certification for this.
Following are the list of barcodes supported by our smartphone app.
Code 39

Code 128

Universal Product Codes (UPC)

International Article Number (EAN)

Interleaved 2 of 5
Putaway
When performing a putaway, the app will suggest you a storage location available for scanned and identified items. All suggestions are based on well-defined putaway business rules for your warehouse, so that you can take your pallet or case right to the assigned location without any need for you to pick your own location manually.
You can also override the storage location to a space if you determine it to be appropriate for the item.
Picking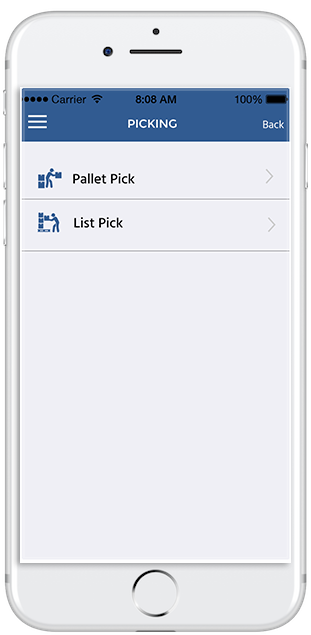 Fig 1.3
Once an order is allocated and has created the picks, you can perform the pallet and list picks from the smartphone application (Fig 1.3). Choose the order you need to pick for. Then select whether it's a pallet pick or list pick you want to perform.
If it is a pallet pick, the app will take you through a location and pallet ID scanning process.
For a list pick, you will have to choose the appropriate order to complete the pick and the container to move the case/item pick to. Scan and confirm the location and pallet/case id for the container. Move the container to the staging location once a product is picked.
Inventory Moves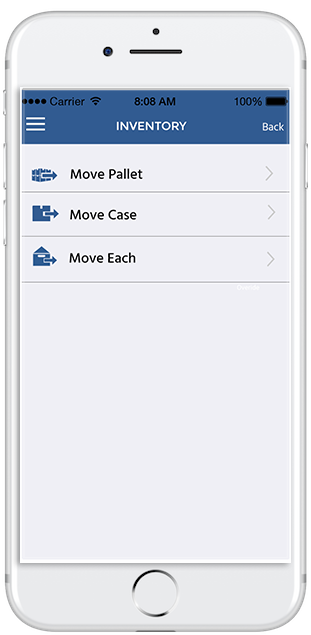 Fig 1.4
In a warehouse, you don't get to keep all the items where they were stored initially till they ship.
This is where 'Inventory moves' function comes in (Fig 1.4). With this function of Foysonis app, you can move a pallet or case from one location to another, if a need arise with ease. All you have to do is scan a location and the pallet or case id and you are ready to perform the movement.
Bonus Tip
Make sure to use slip-on covers on your iOS devices you use in warehouse operations so that it can withstand drops and heavy usage in an industrial environment.
Smart to use a smartphone in Warehouse?
Without any doubt, managing a Warehouse is difficult – which is why it is strategic for a business to try a smarter solution to simplify their warehouse operations, like getting your iOS devices in the Warehouse management operation – that can offer you a modern WMS solution than the traditional legacy WMS software's that forces you to use expensive RF devices.
What are you waiting for? Sign up for our 30-day free demo today. Not only do you get a great product with Foysonis, you will be pleasantly surprised by our knowledgeable WMS specialists and engineers. They will pick the phone in seconds or answer your emails immediately offering phenomenal customer service.